2023 Business After Hours Holiday Extravaganza
Tuesday, December 5, 2023 (4:00 PM - 7:30 PM) (CST)
Description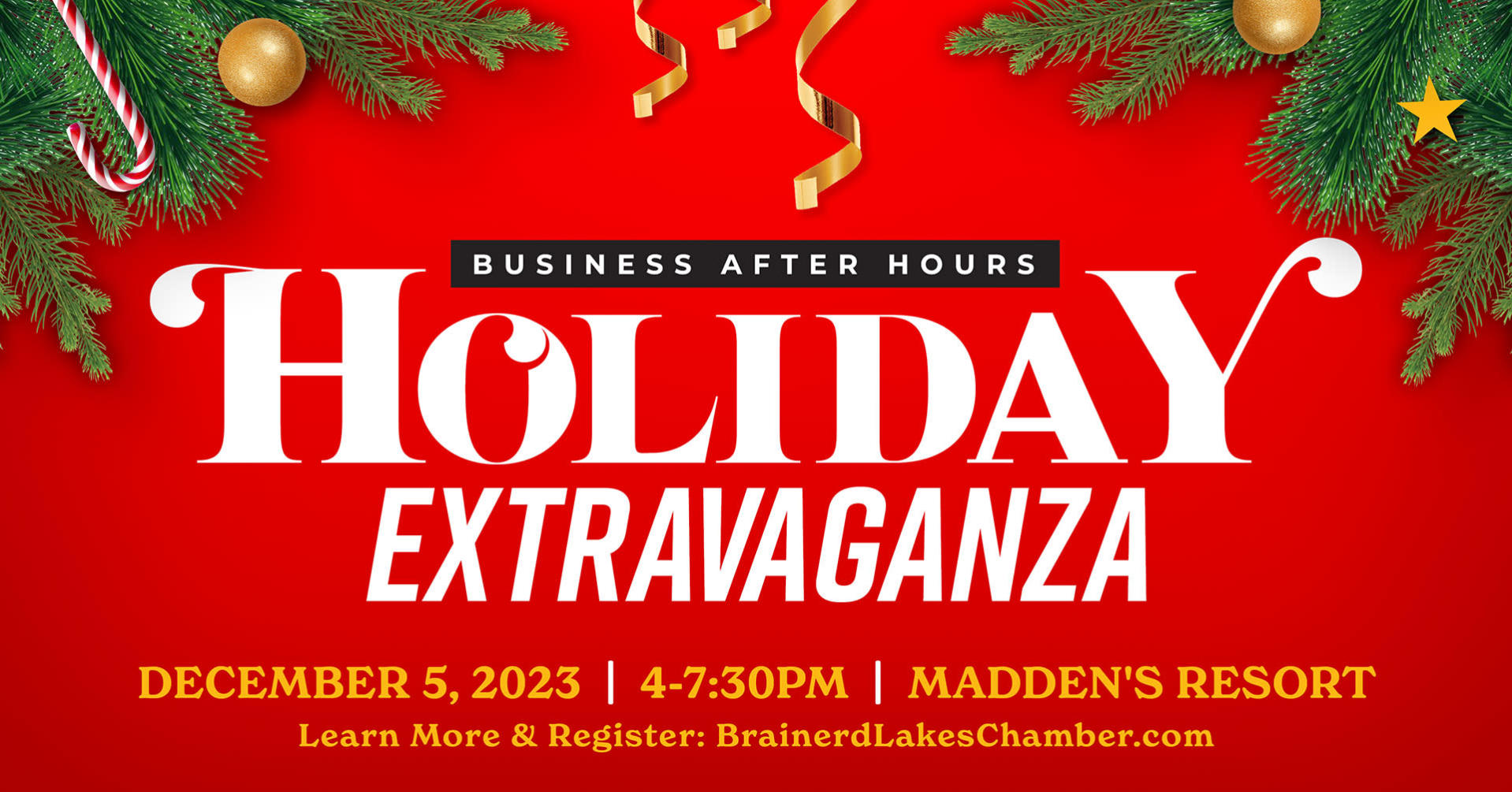 Let's Jingle & Mingle during our 2023 Business After Hours Holiday Extravaganza at Town Hall of Madden's Resort on Tuesday, December 5, from 4:00 to 7:30 PM. Guests will enjoy mingling with 50+ area businesses and organizations, networking with old friends and new, savory appetizers, beverage samples, cash bars and jingling with chances to win prizes!

This event costs $5 to attend (register online in advance or pay at the door) and is open to the public, Chamber members, their employees, and potential members.


Purchase raffle tickets $5/5, $10/15, or $20/30 for a chance to win 50+ fabulous prizes donated by the exhibitors! Place your tickets in the bucket next to the prize at each exhibitors' table. Winners will be drawn and announced on Wednesday, December 6. Winners will pick up their prizes at the Brainerd Lakes Chamber Administrative Office.
Prizes:
Diamond Stud Earings ($400 value)
$100 Cubs Food Gift Card
Zipline Tour Experience Package
$75 Gift Card to Victual
Basket with a Gift Card
Roadie Yeti Cooler
Free Teeth Whitening
Basket with a Gift Card
Boat Shrink Wrap and Free Boat Storage for next year
LED 'Open' Sign
1 yr Subscription to Lakeland PBS Passport
$100 Gift Card
$75 Gift Card to Main Street
$75 Gift Card to Ernie's on Gull
Winter Snuggles Basket
2 Gift Cards for IV Infusion Therapy
New Dell Monitor
$250 Gift Card
Mall of America Prize Packs
$80 Gift Card for a Massage
Electronic Stapler
Sweatshirt and Hat
Maui Jim Backpack Cooler
Maluna Cooler, Yeti Mugs and Blanket
Backpack Cooler, Tumbler, Mug, Wireless Charging Pad and Logo Merchandise
4 Rounds of Golf at the Gravel Pit
Hearth & Home Basket (Blanket, Stanley Tumbler & Journal)
3 Nights Pet Boarding, Dog Bed, Trial bag of Science Diet Dog Food, Nylabone Chew, Squeaky Cuddler Toy, Tennis Ball Fetch, Kong Squeaky Ball, 2 Dog Bowls
6- 24 Packs of Bottled Water
Weight Loss Cocktail (10 Injections)
Moonlite Bay Gift Card
Basket of Assorted Exploration Games
4- $25 Gift Cards to Local Businesses
$50 Gift Card, American Flag and Logo Long-Sleeved Shirt
Amazon Hub
Associates in Eye Care
Baxter Medical Clinic
Brainerd American Legion, Post 255
Brainerd Area Youth for Christ
Brainerd Lakes Chamber
Brainerd Zipline Tour
Bremer Bank
Bridges of Hope - Common Goods
Camp Confidence Lions Club
Camp Knutson
CliftonLarsonAllen
Cosmetic and Family Dentistry
Cragun's Resort on Gull Lake
Crow Wing County Fair Association
CTC
Cub Foods
Culligan Water Conditioning
E.L. Menk Jewelers
Endurunce Shop
Explore Brainerd Lakes Welcome Center & Gift Shop
Full Tank
Grand View Lodge
Hill's Detailing Center
Huber Photography
Indigo Signs
JAG Interior Solutions
Lakeland PBS
Lakeland Veterinary Hospital
Lakes Area Restorative Justice Project
Life Link III
Linden Hill Historic Estate
Madden's on Gull Lake
Members Cooperative Credit Union
Midwest Security and Fire
MPGxtreme
National Bank of Commerce
National Loon Center
North Central Medical Supply
North Star Family Medicine
Nor-Son Construction
On Systems
Premier Choice Management
R & J Broadcasting
Renewal by Andersen
Select Urgent Care
The Center (
The Office Shop
WAVE Young Professionals Network
Widseth
Wings Credit Union
Wonder Trek Children's Museum
Showcase your business or organization at the Business After Hours Holiday Extravaganza in the traditionally decorated Town Hall at Madden's Resort! Over 400 attendees will enjoy this holiday social event of the season, sampling tantalizing appetizers and their favorite holiday beverage while meeting with new Chamber members and reconnecting with old friends.
One of the many benefits of being a Chamber member is the opportunity to network member to member. Many business deals have transpired due to the opportunity to interact, exchange information and develop professional relationships. It's important to put a face to a name and shake a fellow business representative's hand in greeting. This event allows members to network in a beautiful holiday setting with the mix of a cocktail party!
Business Booth: $400 (Limited to 51; 6 available)
Additional Business Booth: $350
Booths located in the main area (2nd floor) of Town Hall
Includes 1- 6' skirted table with 2 chairs, 2 attendees and access to electricity
Exhibitors are required to provide 1- $75-$100 value prize for the raffle
Non-Profit Booth: $300 (Limited to 10; SOLD OUT)
Booth located in the reception area (2nd floor) of Town Hall
Includes 1- 6' skirted table with 2 chairs, 2 attendees and access to electricity
Exhibitors are required to provide 1- $75-$100 value prize for the raffle

Corking Fee: $300
Applies to exhibitors who choose to serve glasses of alcoholic beverages
Fee does not apply for tastings
Images
Pricing

Attendee Tickets
$5 Per Person
Open to Chamber members, potential members, and the public.
(Food, drink samples and festivities all included!)
Register online and pay in advance or pay at the door with cash, check or card.
Silent Raffle Tickets
$5/5, $10/15 or $20/30
Purchase in advance or the night of for a chance to win prizes!
Need not be present to win.

---

Become an Exhibitor
Business Booth: $400 (Limited to 51; 11 available)
Additional Business Booth: $350
Booths located in the main area (2nd floor) of Town Hall
Includes 1- 6' skirted table with 2 chairs, 2 attendees and access to electricity
Exhibitors are required to provide 1- $75-$100 value prize for the raffle
Non-Profit Booth: $300 (Limited to 10; SOLD OUT)
Booth located in the reception area (2nd floor) of Town Hall
Includes 1- 6' skirted table with 2 chairs, 2 attendees and access to electricity
Exhibitors are required to provide 1- $75-$100 value prize for the raffle

Madden's on Gull Lake
11266 Pine Beach Peninsula



Brainerd

,

MN

56401

United States



Town Hall of Madden's Resort
11266 Pine Beach Peninsula
Brainerd, MN 56401
Tuesday, December 5, 2023 (4:00 PM - 7:30 PM) (CST)
Categories
Holiday Events
Product Demonstration
Culinary Events
Community Events
Brainerd Lakes Chamber Event
Area Events